Now
To see and to do today
Poltrona di Proust (1979)
Alessandro Mendini
The Proust armchair is an important statement by Alessandro Mendini. It embodies his principles regarding redesign – reapplying existing shapes – and the importance of ornament. Mendini always conducts elaborate historical research beforehand. For the design of the fabric inspired on Marcel Proust, he looked into which paintings the French writer possessed. Subsequently, he found a detail from a pointillist painting by Paul Signac. He magnified the colourful dots on the wooden frame and the lining of the eighteenth-century kitsch armchair. The shape and function of the chair are covered in the motif. This turns the chair into a three-dimensional painting as well. Mendini raises the question whether it is an artwork merely to look at, or also an item of everyday use.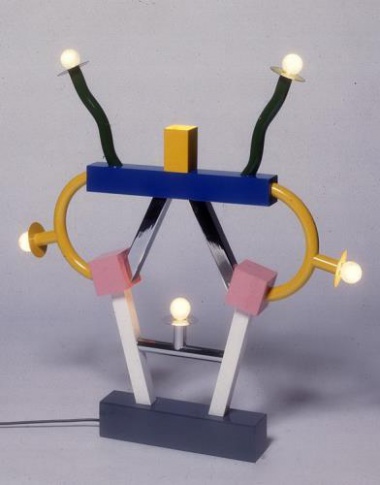 Ashoka (1981)
Ettore (Jr.) Sottsass & Memphis Milano
The lamp's name, Ashoka, was not chosen coincidentally. What does this name mean? In the early sixties the lamp's maker, Ettore Sottsass, resided in India and worked together with local artisans. It was a time of spiritual experiences, in contrast with the materialistic society in the United States he became acquainted with earlier. Flower power as opposed to aggressive advertising. Both influenced the Memphis style. Ashoka (304-282 BC) is considered one of the greatest Indian emperors. Thanks to him, Buddhism spread across India and later the world. The arms of the lamp spread light to all points of the compass, like a modern, many-armed Buddha.
Head of a boy, 1655-1661
Michael Sweerts
A boy is looking at a soap bubble floating right past his face. In seventeenth-century painting, the bubble was considered a symbol of transience, yet that meaning does not seem to apply to this charming scene. The sober, intimate painting is made by Michael Sweerts, of whom approximately twelve such stilled paintings of young people have been preserved. Some propose an affinity with Vermeer's famous Girl with a Pearl Earring, but whether the two artists knew each other cannot be established. The Brussels-born Sweerts was a devoted catholic who worked in Rome for a long time, where he had many Dutch clients and received a knighthood from the Pope. He left for Asia to become a missionary in 1662. This, however, turned out to be unsuccessful. He died in India two years later.